Our Board of Directors looks at the big picture, guiding and supporting Make.Shift's staff,  and providing checks and balances by holding us accountable to our mission and our financial plan.
Jen Castaldo, Interim Chair
Jen went to school for Biochemistry at the University of Wisconsin-Madison, then traveled to Portland and started a marketing degree at Portland Community College before making her way to Bellingham in 2006. She fell in love with the music scene and has since worked in public relations and marketing for various local venues, in addition to writing for What's Up! Magazine. Jen has volunteered with an incredible array of local organizations, including Sustainable Connections, The Whatcom Volunteer Center, Grow Northwest, Lions Camp Horizon, The Mt. Baker Theater, The Pickford, Recreation Northwest, The Bellingham Senior Center, Subdued Stringband Jamboree, and of course, Make.Shift.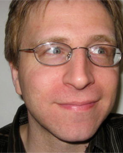 Bruce Hamilton, Secretary
Bruce is an Associate Professor of Music at Western Washington University. He co-directs the Bellingham Electronic Arts Festival, in addition to the Bellingham special events organization Sound Culture. Bruce is also on the Board of Directors of the Washington Composers Forum, an administrator for online music community ImprovFriday, and owner of net label Spectropol Records. Did we mention he's also a freelance composer and musician?
Russel Fish, Board Member
Russ Fish has been recording, mixing, composing, and producing music and music videos in studios, homes, stages, and garages for the last 9 years. He graduated from WWU with a music major and accounting minor. Currently, he balances his adjunct faculty duties at Fairhaven College with freelance audio engineering, playing in various music groups (Ruby Parasols, Excavator) and being a husband and father. Russ teaches four of the audio engineering courses at Fairhaven College and manages the Fairhaven Recording Studio and Mixing Suite.
Sean McKee, Board Member
Sean has been involved in the Bellingham music scene since 1996, playing in a long list of local bands, booking several self-promoted U.S. tours, and performing in every type of venue the country has to offer. A WWU graduate, Sean currently plays in local bands The Narrows and WorldRunner.  Sean currently works as a criminal defense attorney in Bellingham, focusing on the defense of criminal misdemeanors.
Ann Russell, Board Member
Ann Russell is the Campus Community Coalition Coordinator at WWU. Ann has served in a variety of roles in the local community, including administrative support for BALLE, business management functions for Red Wagon Diaper Service, and program coordination and outreach work for Kulshan Community Land Trust and Whatcom Land Trust.
Russell has a bachelor's degree from SUNY College of Environmental Science and Forestry and a master's degree from Western Washington University.  She has lived in Bellingham for 13 years, serving on several boards and as a member of her neighborhood association.  She is also trained in professional mediation with the Whatcom Dispute Resolution Center.
Kacey Morrow, Board Member
Kacey Morrow is an assistant professor of New Media Design at WWU, with a focus on motion graphics, digital video, web and interactive design. Prior to WWU, she was a full-time lecturer at Ringling College of Art and Design in Sarasota, FL, teaching in the Graphic and Interactive Communications Department.
Her videos have appeared in several film festivals and exhibitions nation-wide. She has printed works published in the literary journal Ninth Letter. Ninth Letter was featured in Print Magazine Regional Design Annual, How Design, and Step Inside, and was a competition finalist in SXSW 2005 Interactive Web Awards Competition. She has presented at different design affiliated conferences in Chicago and Boston. She also has years of professional experience in Chicago as a motion, print, and multimedia designer.
 Amy Margliani
(PIC AND BIO COMING SOON)